Dialogues On Reducing Hunger, Diseases Must Reflect Our Situations, Says Osinbajo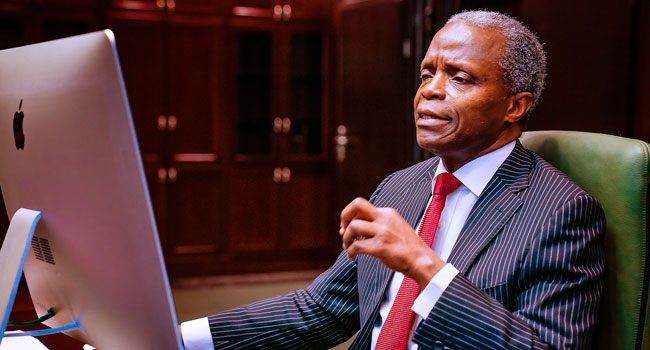 The Vice President, Professor Yemi Osinbajo, believes the conversations in Nigeria and other developing countries must be all-inclusive and reflective of the situations that concern the people in order to tackle hunger and reduce diseases.
As the global community mobilises resources towards addressing the threats, he explained that such conversations were critical to ensure meaningful progress towards attaining the Sustainable Development Goals.
"I think that some of these issues are nuanced and we really need to take a closer look, especially at these dialogues so that our conversations are reflective of the issues that concern us as a nation, as a people, and especially as a developing country," Professor Osinbajo stated at a virtual dialogue on the Nigeria Food System held on Tuesday.
Underscoring the point about the accessibility of the dialogues, he emphasised the importance of having an open conversation.
The vice president said, "We have to take all of these issues into account, especially because we are debating issues in the international community, we are contributing to a global conversation and it is so important that the nuances of our own society and situation are introduced into this conversation so that the conversation is richer and fairer and more just for our people."
"I think we must also make it clear that this summit is about the entire value chain from farm to table and all that is in between, including retailers, food processors, technology providers and financial institutions."
"All of these sectors are involved in the chain and so they are relevant in this summit, and all of their views have to be brought to the table.
"All of these shows the interrelatedness and we need to demonstrate this to show the interrelatedness of each part of the chain and how the weak links affect all, else this will be an important consideration in making this dialogue as accessible and inclusive as possible," he added.
Poverty Has Deepened
Highlighting the significance of the summit, Professor Osinbajo was confident that it would address some of the fundamental challenges facing Nigeria, especially with the outbreak of COVID-19.
Source:- https://www.channelstv.com/2021/02/23/dialogues-on-reducing-hunger-diseases-must-reflect-our-situations-says-osinbajo/